Getting your content to rank on the first page of Google is the best way to drive organic traffic to your site. Websites that invest in SEO from the start, get over 4,000+ visits in the first year. And the websites that don't, get 0, and lose on the potential to gain more and more presence over time.
How do we know this? They analyzed over 28,000 new websites and what they have achieved in a year.  Here is what they found.
How Long Does it Take to Rank in Google: Stats and Key Findings
These stats are interesting and should be alarming.  Semrush says that most don't reach page 1 until 6 months or more.  But one thing they do point out is something we have greatly invested in, and that is starting the SEO early.  We bake it into our engineering and this has helped us greatly.  We can get you on page 1 in a month for local SEO but broad success takes time and ranking high is hard to keep.   So work with this right SEO team.
Out of the 28,000 domains we studied, only 7.65% had content ranking in the top 100 for the entire length of the study (13 months).
Nearly all (92.3%) of the domains ranking in the top 100 for all 13 months had at least one backlink
By the 6th month, only 19% of the domains started ranking in top 10 and maintained there till the end of the period
55.1% of the domains that failed to make it to the top 10 had no backlinks
The average length of keywords for the top 10% of sites ranges from 3.2 to 3.5 words.
Longer content performed better—content ranking in the top positions was on average 3.5 times longer than other lower-ranking pieces
Domains in the top positions maintained better site health overall, compared to lower-ranking sites
Getting the first page at least once in a year was achievable for most qualified websites, but in many cases their hold on those positions would fluctuate. Their findings show that it's common for domains to lose their top-10 positions and gain others month to month.
The overall percentage of sites ranking in the top 10 increased, leveling off at around 41% toward the end of the study.
Around 41% of domains were ranking in the top 10 positions after 6 months. However, these positions weren't always stable: many of the sites analyzed fell out of the top 10 positions only to reappear again later.
27% of the websites that made it to the top 10 remained there for the entire length of the study.
Only 4.2% of the qualified domains managed to have at least one top-10 keyword ranking for all 13 months of the study. Nearly 10% only appeared in the top 10 only one month of the year.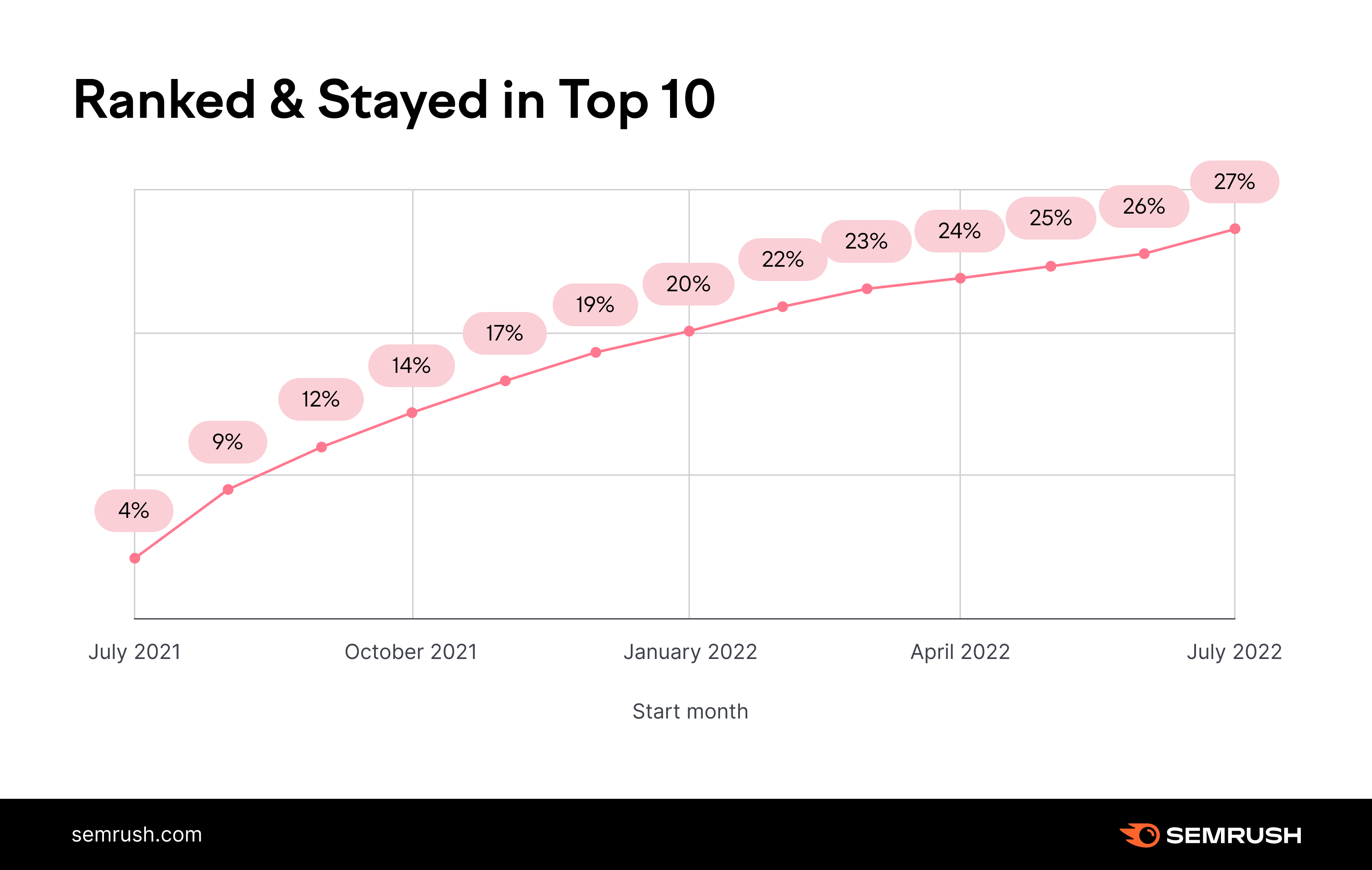 So to win with SEO What Does it Take to Rank Higher on Google?
The top 10% of websites saw a number of benefits from the work they put in to achieve and maintain rankings. As a result, they got over 4,000 average monthly organic search visits after their first year, while those websites not ranking got almost zero.  Amazing and worth the investment.
CFM helps businesses win online using repeatable & powerful SEO techniques.